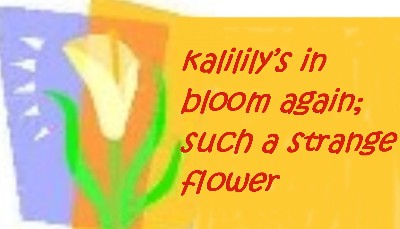 The boxes are not yet all unpacked, but there are two things I couldn't wait any longer to make function anew: (1) a space near the windows that face east with a rug and a rocking chair, and a cat perch so my feline roommate can curl up and watch the birds at the feeder and (2) a Kalilily Time that better reflects where I am at this point in my life.
I live at the foot of my Momma Mountain, where there are reports of a bear wandering around getting into the neighbor's garbage; where a family of hummingbirds visits outside my mom's kitchen window each day and where the female often hovers right next to the window, watching us watching her; where I want to rise early and bed early to enjoy the sunny promises of each morning, but my biorhythms just won't cooperate.
I've dropped almost ten pounds from all the physical labor and walking up and down the stairs a hundred times each day carrying all the stuff that we should have gotten rid of. Yesterday afternoon I lay down to take a half-hour nap. I woke up four hours later.
he cut down the wild mullein growing next to the driveway — the four-foot tall sisters with spikes almost ready for harvesting and drying. they take over everywhere he says — big ugly weeds. but he's good to her. brings her ice cream, makes sure she's taken her meds, sits with her and watches tv. keeps making room in his basement for the stuff that just can't fit. and he always fills the hummingbird feeder. and he can make you laugh at the things she does that stopped seeming funny to you. so you figure that there will always be more mullein.
Momma Mountain watches as I keep climbing the hard path I've chosen.
I wish I cared more about giving.
I wish I knew more about weblog design/codes etc.
I figure I'm not doing too badly despite my ungranted wishes.
And so it goes.