….so thanks for the encouraging comments that blogfriends have left on other posts here.
I promised my dad, on his deathbed, that I would take care of my mom. I knew it would be hard, given who we both are — which is about as opposite as two people could be.
I think there's much to be said for asserting one's independence early in life, exploring one's inner and outer worlds, taking risks and learning to make the best of the consequences. That's how I've lived my life (which, I hope, has quite a few years left to it; although, I do wonder if there might be something hereditary that will show up in my brain).
My mom had a hard life. The oldest of three girls (she also had two older male siblings), she had to leave high school when she was sixteen and go to work in a carpet mill. Yup, think of the photos of sweatshops that you have seen — that's what it was. She and her sisters also strung beads to earn more money for the family.
She's the last one left of her family of origin.
I can tell from things she says now that her younger sisters did not have the expectations laid on them that she had. I don't think she was mothered very well, although she does talk a lot about how helpful her mother was to friends, neighbors, and relatives — especially if they were new Polish immmigrants. I can't help wonder how much her mother didn't do for her because she was doing for others and expected my mother to do the same. Perhaps she spent much of her life running on empty.
After the first world war, my grandmother took her five kids to Poland because they were so poor. For eight years they lived and worked on the old family farm that had a house with a thatched roof.
That's my mom in the midde soon after they returned to America. My grandfather had gotten a decent job in a sugar factory.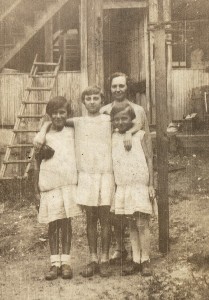 As I give up more and more of my current life to help make what's left of hers easier for her, I'm trying to remember why I need to do that.
Because I promised my dad. Because she often was there to help me out when I needed help. Because I still can. Because it's what we've always done in our family. Because I will regret it if I don't. Because I would not want to die alone.
I'm runnin' on empty today. So I blog. Talk on the phone to my daughter and my son and my grandson. They keep me going. For now, they keep me going. Even on empty.