As I was posting the reference below to Stravinsky's Rite of Spring, unbeknown to me, my mother was unearthing photographs of my daughter who, as a junior in high school, choreographed, costumed, and danced her own original interpretation of that piece. Her costume was flesh-colored and glittery. Her makeup dramatic. Her movements fierce. This in a school district community that, at the time, was quite unsophisticated. (Actually, given the large number of current unsophisticated national constituencies, it was apparently ahead of its time.)
Anway, I just love this photo, which, according to writing on the back, was taken and given to her by one of my daughter's teachers.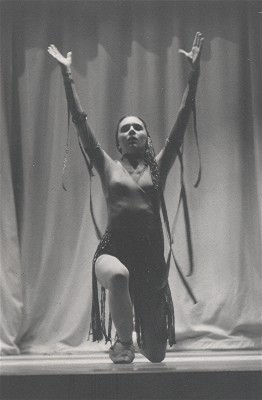 I must not have taken any photos of her that evening since no others are turning up. I do remember sitting in the middle of the audience listening to the murmurs during her performance that probably had more to do with the fact that she wasn't wearing a bra under her leotard than with the choice of performance piece. I wish I could have taped the comments afterward from other parents as they tried to come up with something that would not give away their real opinions.