My mother didn't remember. Neither did my brother. But I've been thinking about it all day.
Twenty years ago today, my father died of pancreatic cancer. He died at home, with my mother and I sleeping in a bed next to him. I was the one who awoke, in the early hours of the day after Christmas, to the silence in the room, the absence of that rasping, labored breathing. Before I woke up my mother and brother, I went over and sat by the edge of my father's death bed and watched his face, finally relaxed into what looked like a smile.
My father never asked me to take care of my mother after he was gone. I don't think he wanted to put that burden on me. But as he lay dying, fighting the inevitable despite the pain, I told him not to worry. I would take care of her. And by the next morning, he had finally let go.
I've told this story before, on my old weblog. I'm remembering it today, again.
And so now I take care of my mother. And I'm thinking that I do it more for him than for any other reason. This is a photo of him and my mother less than 6 months before he died.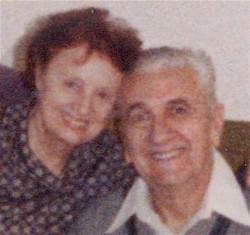 Graveside Testament
On the day that they folded him
barefoot and grim
into that final silence,
there was no space left to tuck a cry.
We fed him to winter,
to the honest needs of roots.
"There were signs," she says
words muffled by the upturned collar
of the coat I have outgrown
and she has shrunken to fit.
Above her breath, four crows
defy the lacework
of a snowy sycamore.
"One day I saw three small doves
flying above his car.
And then there were the crows."
A nervous rustle. A shift of feathers.
"They gathered in the trees behind our house
on the day he came home the first time.
Thousands, like charred leaves.
like black snow.
He had gone alone to the back porch
to face the sun.
Suddenly, he was in the doorway,
his face dark with anger.
He said the noise was killing him."
From below the snow, a frozen sigh.
And so I bury a sprouting tuber
near the stone of my father's grave
so that hairs of the tuber
will twine with his hair,
beckon the rain
and dance with the worm;
so that the tuber eyes
will watch in his place
for the message of the great crows
who keep vigil in all seasons
from the crotch of a crooked bough.
And I will lie on my father's grave
and listen.
© Elaine Frankonis 1990