He remembers dancing with me, he says — the guy who ultimately married one of my roommates. I certainly remember him, too. He was one of the best Lindy dancers around — easy to follow, smooth and sassy. He says that what he remembers about me was that I always wore bright colors and make-up to match. Remembers that, in terms of whatever boyfriends I had, I was known to be "flighty." A "free-spirit."
Free spirit.
That word comes up often when my long-time friends say what they remember about me. Free Spirit. And Beatnik. That's who I was, or at least what I aspired to. No wonder I am who I am now.
The three husbands who joined us after our dinner were all from the same fraternity. There were lots of pairings between their fraternity and our sorority over the years. If we were sisters, they were our brothers-in-law. I liked these three then and I still do. Good guys, these guys.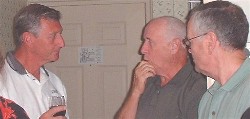 I liked hanging around with guys back in college in the late fifties because they had so much more freedom than we girls did. And flirting was an art we all enjoyed. But it was innocent flirting. It was all before drugs seeped onto campuses; it was when guys (at least the guys we knew) understood and accepted that No means No.
So now they all tease me about my tendency to push the envelope of expected female behavior. It was, after all, just about the timeframe of Mona Lisa Smile. I guess I was just born to be a feminine feminist.
The memories that spill out of our aging brains complement each other, fill in some blanks that we each have.
I had forgotten that I used to sit by myself and play my aunt's old guitar. I only knew three chords but could play just about all the old Everly Brothers songs. And Web Pierce's "There Stands the Glass." I'm sure now that my rudimentary attempts at guitar playing were as much for effect as for any great desire on my part to actually learn to play well. Beatniks, after all, sit alone in a corner and play the guitar. We become what we imagine.
I had forgotten that, in grad school when I lived in an apartment on an inner city side street with three other sorority sisters, I was the one who called the police because we had a prowler on the roof. We lived in a three story building owned by "Aunt Liz," an Irish washerwoman who did the laundry of others in her basement. Our shared bedroom was the attic that had a big skylight, and we would lie in our beds and night and tell each other our dreams and share dirty jokes. One night we heard footsteps on the roof. I don't remember calling the police and laughing so hard about the whole thing on the phone that the cops thought I was joking. But my roommates remember. They also remember that, when the cops finally arrived, they found a ladder against the side of the building and someone's sneaker left behind on the roof. They remember the cop pulling out a gun. I just remember my annoyance at having our privacy invaded and my surprise that my roommates were as upset as they were. I guess I should have felt more violated than I did, but back then, in my own mind I was invincible, untouchable, immortal.
Enough about me. What follows will be more about them, those golden girls who, I think, glow more compellingly now — and for some it's 44 years later — than they even did in what we all remember as our sweet golden glory days.