When shall we three meet again?
In thunder, lightning, or in rain?
When the hurlyburly's done,
When the battle's lost and won.
That will be ere the set of sun.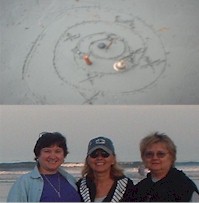 I'm back from Maine. That's me on the right, looking relaxed and rather pudgey. And that's our Solstice sand ritual image above.
I'm doing laundry, waiting to hear from my mom's doctor 'cause I have to get her in to find out why she's gettng such severe leg cramps — so I'll post more about our great vacation later.
Suffice it for now to know that we spent the week beaching, eating, reading, walking, and Boggling. And laughing. A lot.